The kids and I had fun at Swenson Park last Saturday morning, getting a great sense of the neighborhoods and some of the best places Mound has to offer. Here are some pictures of our walk to the park.
Our walk to the park started on Emerald Dr, a nice, walkable street.
The kids really enjoyed stomping through the leaves on that beautiful Saturday.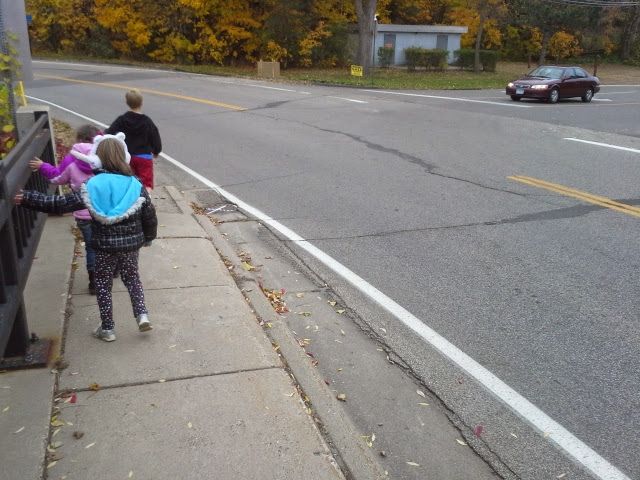 Coming up to the Wilshire/Brighton Blvd intersection.
The Wilshire/Brighton Blvd intersection is not a very pleasant place to be...
I've written about it before
. We remained undaunted, and continued our way to the park.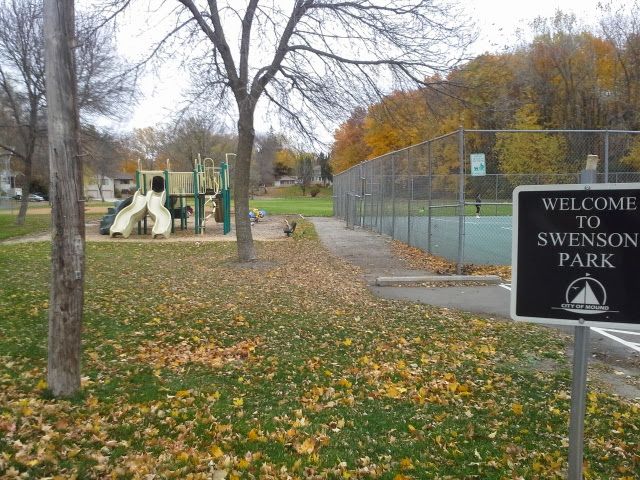 Swenson Park is a great place in Mound!
Swenson Park on the Island is a great place for people. It's got a playground, tennis courts, softball field, basketball court, and a lovely little wooded area. The kids spent most of their time playing (and a little bit fighting) of course.
My daughter exploring the wooded area of Swenson Park.
I have to say that this was the first park I've noticed (aside from Avon Park where I live) where the "No Parking" signs were on the side of the street by the houses, leaving plenty of room for parking on the park side of the street. I visited with one of the long time residents, and he said that the neighborhood petitioned the city to make that change long ago. Way to go Swenson Park neighborhood!
One really gets a good sense of what makes a "place" in a city when you are moving on foot. You see all the homes and places, streets and retaining walls, gardens and yards you miss otherwise. You run into friends and acquaintances and pet puppies, and wave to people who are raking leaves. After a while I start feeling sad for those who never take the time for activities like this. We enjoyed the park for a good hour, and we headed home.
Wilshire/Brighton intersection again going the other way.
The picture above of two girls simply walking home on the only place on the street they can, and are expected to share this space with speeding cars is a reminder that there is still work to undertake to improve Mound for people. Neighborhood connections like those between the Shirley Hills and the Island neighborhoods have been engineered to eliminate people so cars can save seconds from a commute. This mentality needs to change. Places like this need to be designed more thoughtfully, concentrating on enhancing the area for people to live and conduct their affairs on, while still allowing cars to respectfully drive through.
We enjoyed our time at Swenson Park so much. that we are heading to other Mound parks in your neighborhood. Come and and say hi!
Tuesday, October 21, 6PM-7PM Highland Park (Highland and Glenwood)
Wednesday, October 22, 6PM-7PM Three Points Park (Three Points and Gull)
Thursday, Octover 23, 5:30-6:30 Belmont Park (Belmont and Tonkawood)
Please like and share "
A Place in Mound
" on Facebook, and with your neighbors and friends in Mound, and vote for George Linkert on November 4th.