Here's a little game anyone can play. Let's look at a proposed development and try to estimate what the future property tax collected will be when the project is completed. Let's try our chops at the most recent Mound downtown project!
First the facts...
Johns Variety Building right before tear down
The property in question is part of an old downtown block on Mound's most significant intersection of vehicle traffic. Very valuable in terms of location as it's near the Dakota Rail Trail, and across the street from Mound True Value, and Mound Marketplace, where Jubilee Foods and other restaurants and retail stores. Also, the property borders and is close to some residential. Buildings that will be torn down are, for the most part, very old, and on their last legs in useful life. Property Taxes generated on these parcels in 2012 produced $53,141 dollars for Hennpin County and City of Mound.
Exciting new Walgreens!
Going up is the new Walgreens with a convenient drive through, two driveway accesses, a new parking lot, and a small bistro restaurant.
The game is played as follows... how much in property tax will the new Walgreens produce? How does it compare to the properties that used to be there? This is valuable land, and we want to be sure this property is financially productive!
Our first contestant is yours truly...
George Linkert, the guy whom the Mound City Council decided wasn't worth reappointing to the Planning Commission without any explanation.
.... George Linkert only has a couple years experience on the Planning Commission. His background in music and education make him look like an underdog. Let's hear what
he's got to say
....
George ~ After looking at similar parcels on County Roads in our area, "It's uncertain if the property taxes raised on the Walgreens Block will be more than what is collected currently. If it will be, it certainly doesn't seem like it will be much."
Ok, George seems to thinks the revenues from the new parcels will be a little higher, if not the same.
Next up to play are the experts from the Hennepin County Assessor's office...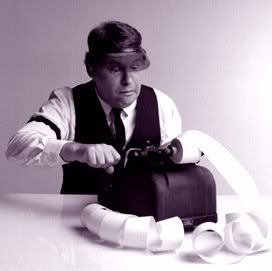 Mr. Assesor warming up his slide ruler.
.... these guys do this sort of analysis for a living, can you tell us how much in property taxes the new Walgreens development will make for local governments?
Mr. Assessor ~ "I am the one who deals with most of the Walgreen appeals in our Hennco cities we provided services to. .... I would consider more in the tax area of $100,000 to $105,000."
Really! Wow... $100,000 is quite a different number that what George got. How did you come up with that number?!
Mr. Assessor ~ "There are many reasons why tax estimates can vary from one property or parcel to another. Walgreen's stores as related to other larger retail centers and/or other freestanding retail facilities generally locate themselves on highly visible or strategic corner locations.
As we attempt to estimate market value we look at the market forces that are at play within each given location and more particularly to the individual real estate that is being appraised. The estimate provided on the Mound Walgreen's reflects the quality, condition and the age of that structure as compared to some of the other surrounding retail.

What we are not valuing is the long-term income stream and the considered bond rate return that Walgreen's real estate provides in the investment market."
OK, Thanks for playing Mr. Assessor!
Let's review the numbers. What did our contestants believe would be the property taxes generated from this new development....
George Linkert - $53,141
Mr. County Assessor - $100,000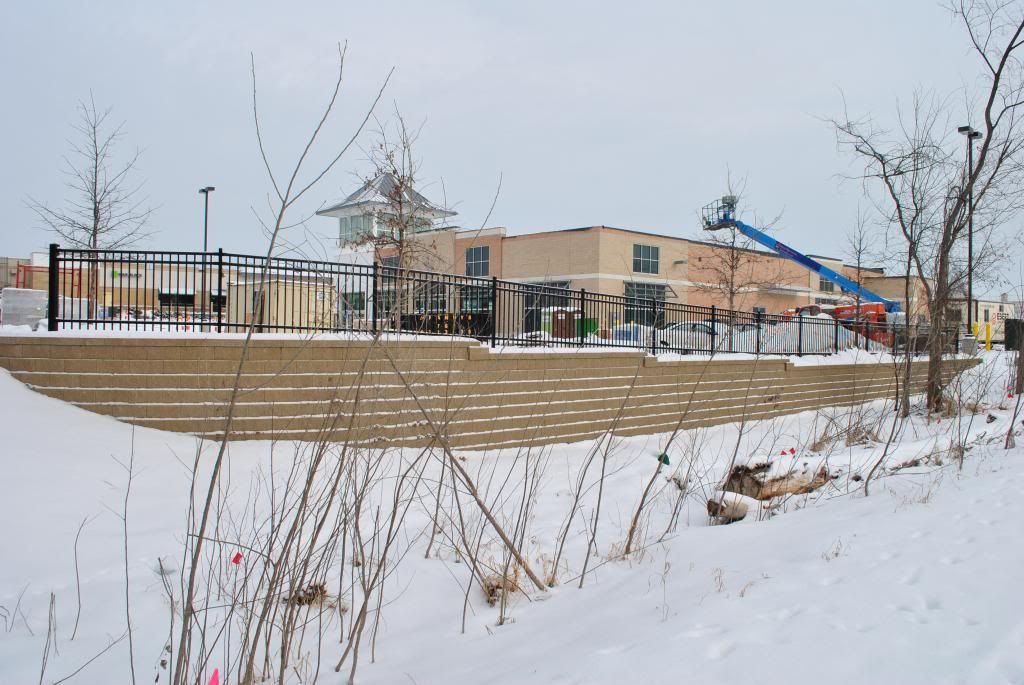 Complete Walgreens, picture taken from trail.
Now let's check the Hennepin County Website a few months later as the development is nearing completion and find out what the revenues generated on the new Walgreens development will be!
2013 Property Tax revenue $57, 490.90*
Which means George was off by approximately $4,000
Mr. Assessor is off by approximately $42,000
Congratulations George Linkert! You estimated the future property tax generated of this new development more accurately than the highly touted, better educated county assessor by $38,000!
* - This total doesn't included the finished Dakota Junction, which wasn't finished until last year and so it's numbers haven't been published yet. I'll guaranty you it won't be $38,000.