*If you haven't had the chance yet, I hope that you will consider watching my presentation last week. I spoke for about 15 minutes and the discussion afterward was about 45 minutes. I greatly appreciate the invitation and time there, and look forward to having more conversations with the city soon. Topics were wide and varied, so I will be responding to the issues we discussed over the next week or two.

Thanks to those who have watched, and have been encouraging. I know some people were disappointed by some of the city council comments made, but these are tough issues, and we are at a disadvantage when arguing from an outsiders perspective. We need to be strong, patient, persistent, and even a little tenacious as we make our case, while still being respectful.
During my presentation
I repeatedly said one of the issues Mound faces is that it has streets that are built for cars to go fast. While the council talked about this, they repeatedly stated that "roads are for cars". I didn't want to argue terminology, so I didn't attempt to correct it then, but I wanted to dispute this notion in my first response today.
As we've talked about before, there it's a difference between
streets and roads
. Roads are for connecting places. There is little value on a road, as it usually is passed by. Streets are a place where we live and conduct business. A street captures and adds value to places that surrounds it.
Unfortunately our cities have been built with streets that try to act like roads and encouraging cars to go fast. This not only hurts neighborhoods, they can kill people.
Mound needs to think carefully when they rebuild their MSA streets the next few years. Mound wants streets that are people friendly and where bicyclists and pedestrians can exist along cars driven at a people safe speed. We need to build streets for the next 30 years, not the last 30.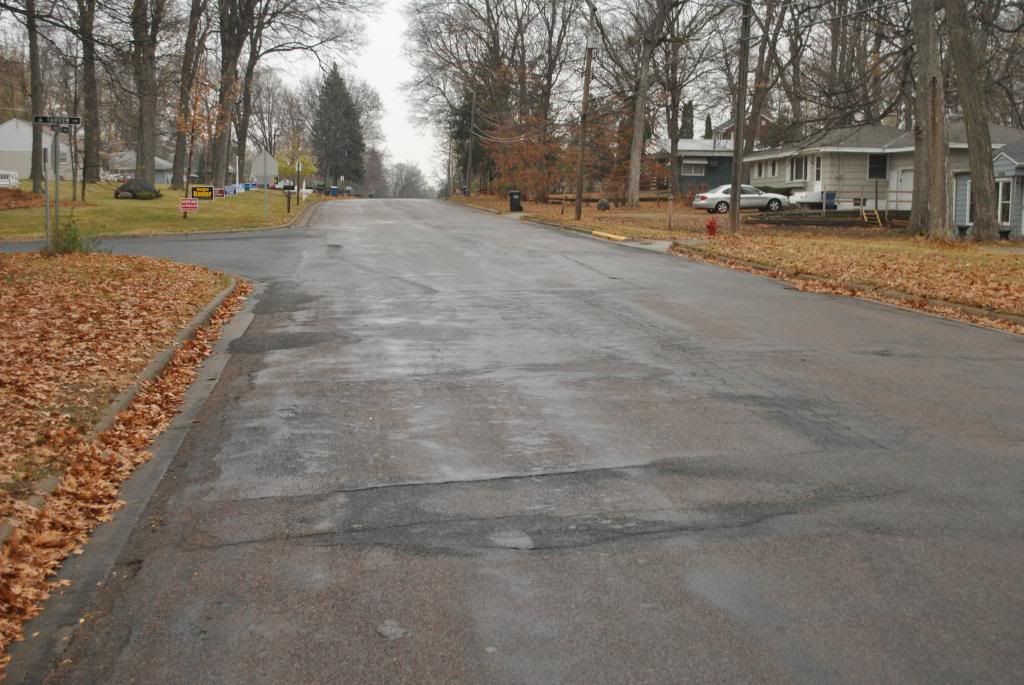 Mound needs to build streets for everyone, not just cars.
After my presentation, one issue the city council brought up was the suggestion that slowing traffic would create congestion. They continued that if there was congestion, then people would choose not to live in and do business in Mound.
Slowing down cars in our neighborhoods is not creating congestion. It would, in fact, would add value to neighborhoods.
We build these big, wide, MSA streets to move cars quickly and efficiently. In Mound, they help people move from the County Rd to their neighborhood street. For people in my neighborhood, we use Bartlett Blvd for this task. See the chart below to see the travel times.
Travel time on Bartlett Blvd from Shoreline to Avon Dr.
25MPH - 48 seconds (+8)
30MPH - 40 seconds (+6)(posted speed limit)
35MPH - 34 seconds
Bartlett Blvd from Shoreline Dr to Avon Dr, a MSA street.
People in my neighborhood can drive faster on Bartlett, and cut 6-8 seconds off their travel time thanks to MSA streets. Are those seconds really worth having if it degrades the neighborhood I drive through?
Let us look at another neighborhood. These times are for someone driving on another MSA street, Tuxedo from Skelly's, past Al and Alma's to Seabury Rd. I'm uncertain what the posted speed limit is on Tuxedo... seems to me it might be 35, so I included 40MPH.
25MPR - 245 seconds - 4 min 15 sec (+41)
30MPR - 204 seconds - 3 min 29 sec (+29)(posted speed limit?)
35MPR - 175 seconds - 2 min 55 sec (+22)(posted speed limit?)
40MPR - 153 seconds - 2 min 33 sec
Tuxedo Blvd from Seabury Rd to Wilshire Blvd, a MSA street.
Building a street where cars can drive 5 MPH less and share the road with people and bicycles could cost the residents of Seabury Rd. 22-41 seconds. Is that congestion? Would someone choose to live someplace else because because their drive to their home is 30 seconds less?
This all comes back to our neighborhoods, and the places people live. What are we, as a city, telling the neighborhoods of Bartlett Blvd and Tuxedo Blvd when we encourage fast cars by their homes?
Look closely at the neighborhoods you drive though the next time you go through. Do you see people? Are the houses there built close to the street, or far away? Do children play in the yard? How would you feel if your child was trying to play there, learn to ride their bike, or go to play at their friends house across the street. Are you comfortable with that?
These results from a study done on three similar streets with different levels of traffic. What value does a city place on a neighborhood when it allows cars to go fast through it? How does a neighborhood value it?
Do we, as a city, feel it's acceptable to hurt the Bartlett,Tuxedo and other neighborhoods, so others who choose to live further off a County Rd, can shave seconds off their commute?

I will contend that there are many of reasons why people choose to live in Mound, and hardly any of them would be because of their fast, wide streets. These streets were built this way because traffic engineers are so focused on moving cars that people are just afterthoughts in their equations. Going 5MPH slower on a neighborhood street is not congestion, and in fact, should be encouraged so everyone who lives in Mound can have a great neighborhood.