Season's Greetings to all of you! When I started A Place in Mound, I had no expectations, but I am so glad people have responded positively to the ideas shared here. We have lots to do to make some of the simple things we discuss here a reality. Here are two things I want do the first 6 months of 2013. One is to have an informal meeting so we can meet, and actually talk about Places in Mound, and figure out what we, as citizens, can do. The second is to set a date to have a bike day in Mound, inspired by "Kidical Mass". Let's work to make Mound a place to drive to, not through!
Also, I like many others are currently unemployed. It would be appreciated if you think of people like myself during these times. Let us know if there are ways we can help you or your colleagues at your business.
Mound city hall moving - City council officially voted to move city offices to the Public Safety building after some more parking can be added. I dare the city of Mound to look at this carefully, and consider
back in slant
on street parking. It appears the meetings will continue to be in the old building, which they are considering naming the "Centennial Building".
Walking to school on December 10 (the Monday after the snowy Sunday) was rough. I have lots to say about it later, but everyone needs to understand the speed limit on streets by the schools when children are present is 20 MPH. My kids and I had no sidewalk options that day, so we walked along Bartlett and Wilshire, and cars went by WAY to fast, and I got into a heated argument with one gentleman.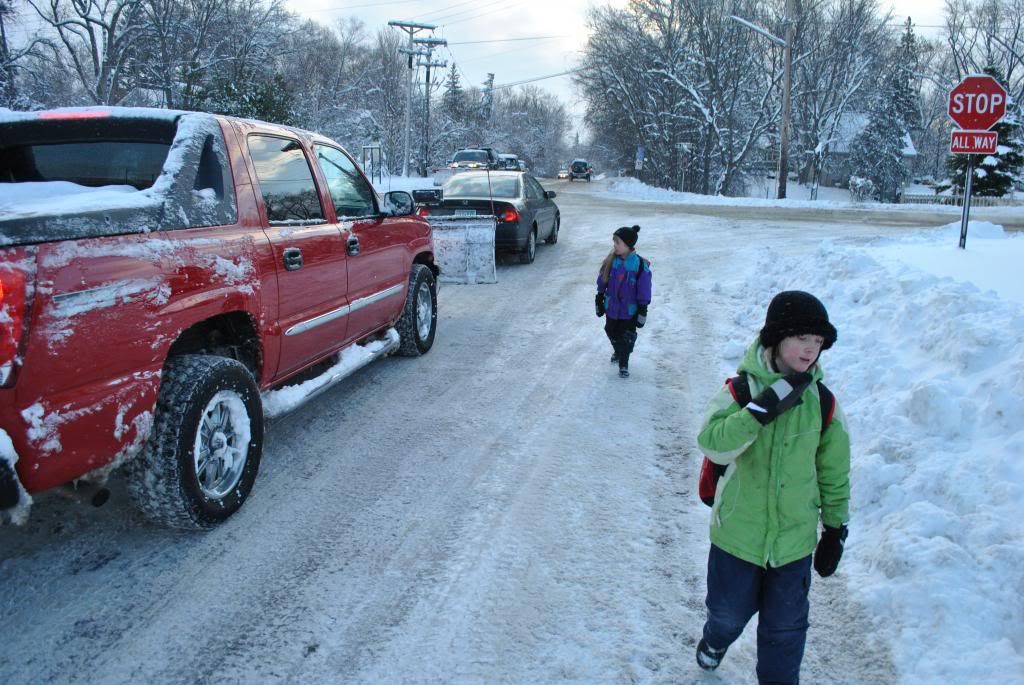 These cars were stopped at the stopsign, but many drove by us at dangerous speeds
The committee that put together the recent meeting on Heroin at the Gillespie Center will be hosting another meeting in January. It will be a more general meeting on drug abuse, and will give people a chance to meet in smaller groups with officials. It will be at the Gillespie Center on Thursday, January 31st at 7PM.
At the Planning Commission meeting last month, there was a report from the city staff that the 2nd Mound Magic meeting was just as well attended as the 1st meeting. It was also recorded to be broadcast from the Cable Access. They were pleased at the reactions of the meetings, and are planning to do more in the future. It was also shared that they have been making more of an effort to meet with city business owners. I'm sure this sort of thing has always gone on, but perhaps they are making more of an effort to get out and have conversations. Perhaps they'll take the walk I
recently proposed
.
Jubilee has set up a website at
http://www.moundjubilee.com
. You can now sign up for emails, see the specials, and get contact information. One frustration I have, in general, about Mound businesses is the lack of websites many of our businesses have. I know that Celebrate Greater Mound has tried to help to give small local businesses the opportunity for a free website, but those efforts, so far, haven't seem to help much. But it's a good idea... and those efforts need to continue. Many of us use the internet to get information, and if a business doesn't even have basic information available on the web, we will look for other options.
Speaking of CGM, it has just announced it's changing it's name to Westonka Community and Commerce. This is just a name change to reflect the broader business community, and try to include important businesses that aren't necessarily in Mound. It's mission and programming isn't changing. I'm a little reticent to this change, as Mound is the hub of this organization, and until the center of our business hub improves, Mound will continue to be stagnant, but I do believe strongly in this organization and strongly encourage everyone to be a part of it.
The Moonlight Trail Walk is coming up quick, on January 26. Do me a favor, and go
like the Facebook page
, will you?! And if you want to help, contact
Liz
. Especially you could help by making luminaries.