I've been meaning to follow up on a
previous post
that looked at the Walgreens development, and how it affected the property tax revenue from the parcels it will occupy. As I studied it (with my untrained eye) it seemed that the property tax revenue that would be generated from the development would fall short of of the $53,000 that was generated with the old property. I alluded to this post several times afterward, lamenting this finding, as well as the plain fact it was never considered.
It appears I was wrong.
It took the city and county several weeks to figure out what the tax revenue would be, and they issued this statement...
Based on preliminary information from Hennepin County, estimated tax revenues for the Walgreens development is in the $100K - $105K range which will be an increase over previous uses on the site. Of this amount, the City of Mound receives a share of this total. It is important to note that the City of Mound does not control the assessed values and final tax numbers for the Walgreens development would be determined as part of the County's annual tax assessment

process

.
I asked the city why would Walgreens pay over two times the property taxes Mound True Value currently pays, and they couldn't answer that question. Here's the list of properties again that I looked at, and none of them are close to what Walgreens will pay.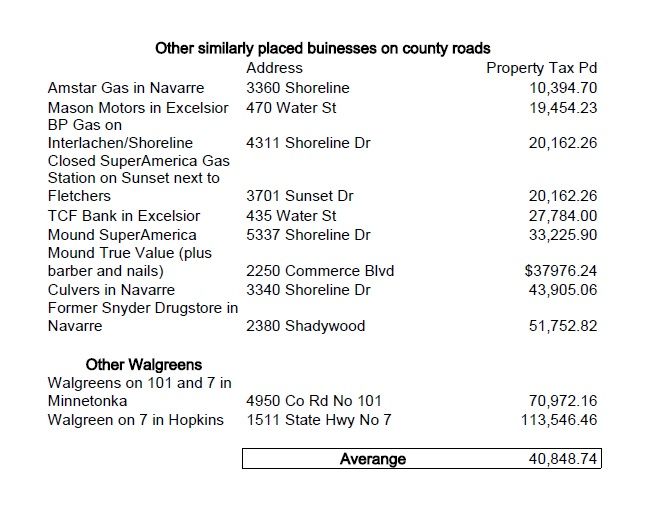 So I apologize for sharing my poor analysis of the situation. I am still learning.
I still think it's important for cities to consider the question of property tax generation in developments. It is important that the city be able to pay for the services it provides, and all sources of revenue need to be examined more closely.