It was great to see the great crowd out along Auditor's Road for the Mound Tree Lighting ceremony! Be sure to like the
Facebook page
so you can be alerted to details about next year's tree lighting ceremony!
Also, a number of local churches worked together to have a community Thanksgiving Service Wednesday last week.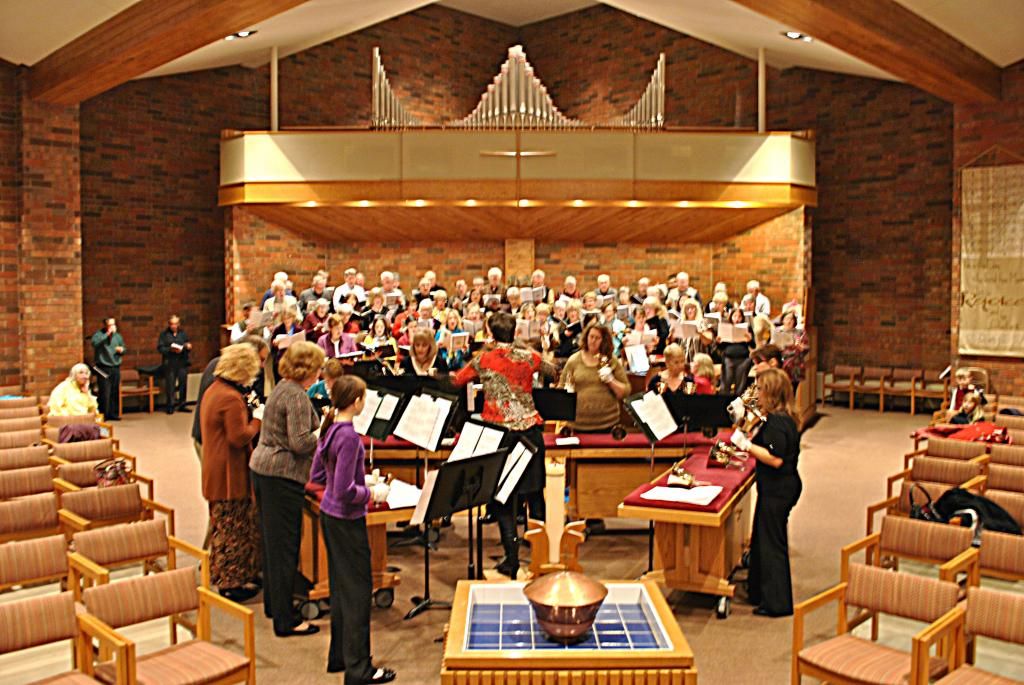 Combined church choir for the Community Thanksgiving Service
Lots of Holiday events coming up, one to highlight is the Mound Westonka Rotary Pops Singers Annual Luncheon held at the Layfayette Club.
You can find details at their website.
Coming up is the
Moonlight Trail Night
on January 26, from 6-9PM. If you were interested in helping out, we are looking to add more luminaries to the trail. If you have interest in helping out on this part of this great event, please contact
Liz Wallis
, she would LOVE your help!
News out of Mound City Hall... they have
hired a firm to conduct a market study
to help determine future Mound development. It can't be denied that having a fresh set of eyes looking at Mound may give us opportunities we haven't seen or discussed before, but of course they are getting these sorts of things right
here
for free! But the plain truth is that people will expect to hear what they already believe or know, and if the study doesn't fit with what they already know, it will be dismissed. One can find numerous other studies this company has done other cities that are interesting reading, including our friends in
Maple Plain.
The Mound City Council is starting their plans in moving city offices to the Public Safety building. There are lots of good reasons for this move, though I wonder if more creativity could be used when looking at what to do with the old facility.
Mound will also start
taking applications
to fill Senator Elect Osmek council seat.
Last, I've been invited to come and talk to the Mound City Council about our ideas and intent for the city. I appreciate the opportunity and aim to make a couple points about having our city be a place to drive to, not through. I'll share my experiences later this week.