With the Holidays coming up, it is a good time to consider our shopping habits and how they affect our communities. We are all under assault from advertisers about what to buy, where to buy, who to buy for... it gets overwhelming. Some embrace this with all sorts of shopping like on Black Friday and Cyber Monday. Lately there has been several notices about a "Local Business Saturday" some organizations are trying to promote.
It's important for our communities to support our local businesses, because they in turn, are supporting us.
Which grocery store is sponsoring a little league team? It isn't Cub, it's Jubilee Foods.
Which restaurant is helping serve cookies and hot chocolate at the Mound Tree Lighting ceremony? It's not Perkins, it's
Scotty B's
.
Which churches organized the Mound Tree Lighting ceremony and live nativity? It wasn't a super church in Victoria or Chanhassen, it was
Mount Olive
and
Bethel United Methodist
.
What hardware store provided candy canes? It wasn't Home Depot, it was
Mound True Value
.
Which animal hospital organized Dog Days Westonka? It wasn't PetSmart, it was the
Westonka Animal Hospital.
It's important to support our local businesses with our shopping habits... not only during the holidays but the whole year. When we support them, they, in turn, will support us.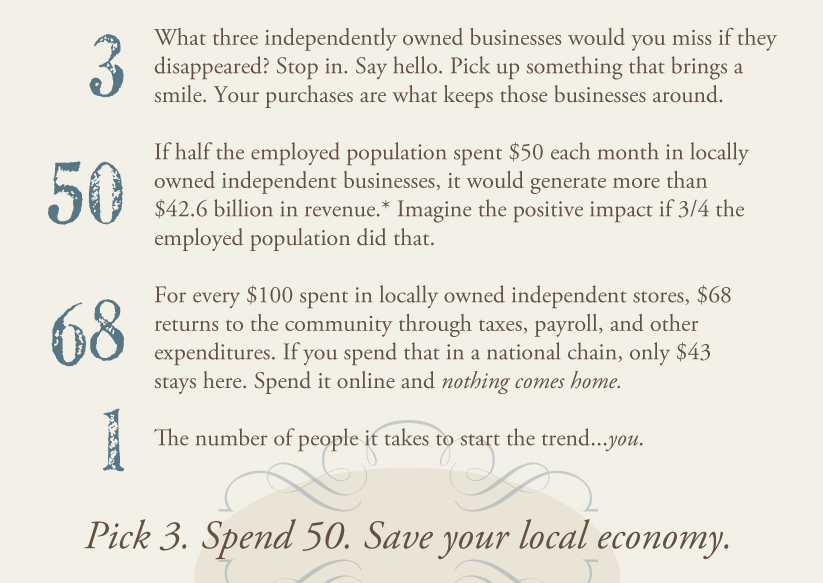 Great simple numbers showing the positive effect of shopping locally.
The
3/50 Project
makes some great simple points about why it's important to support local businesses as well. The main one being, the money we spend at local businesses is kept local. It goes to the employees that work there, and to the local printers they use, and local distributors they employ.
To make Mound a better place, Mound needs to support it's local businesses. So before you run off to the nearest big box store to go shopping, think local!