We got some questions about a post last week and my response to one inquiry became this post.
I'm still trying to learn, and understand what it means to have a TIF district. I've been under the impression the Auditor's Road area was already a TIF, but haven't queried it further, and maybe someone could educate me on the topic.
Tax Increment Financing
(TIF) is a tool that city's use to get developers to redevelop a block. Often when a developer compares the costs of redeveloping an old city block, to just purchasing some cheap land on the edge of town (or Minnetrista), the cheap land is more attractive. Cities (like Mound) often will make the redevelopment of an old block more attractive by artificially lowering property taxes for a set amount of time, like 25 years. A TIF could also put the city in position to essentially give the land to the developer.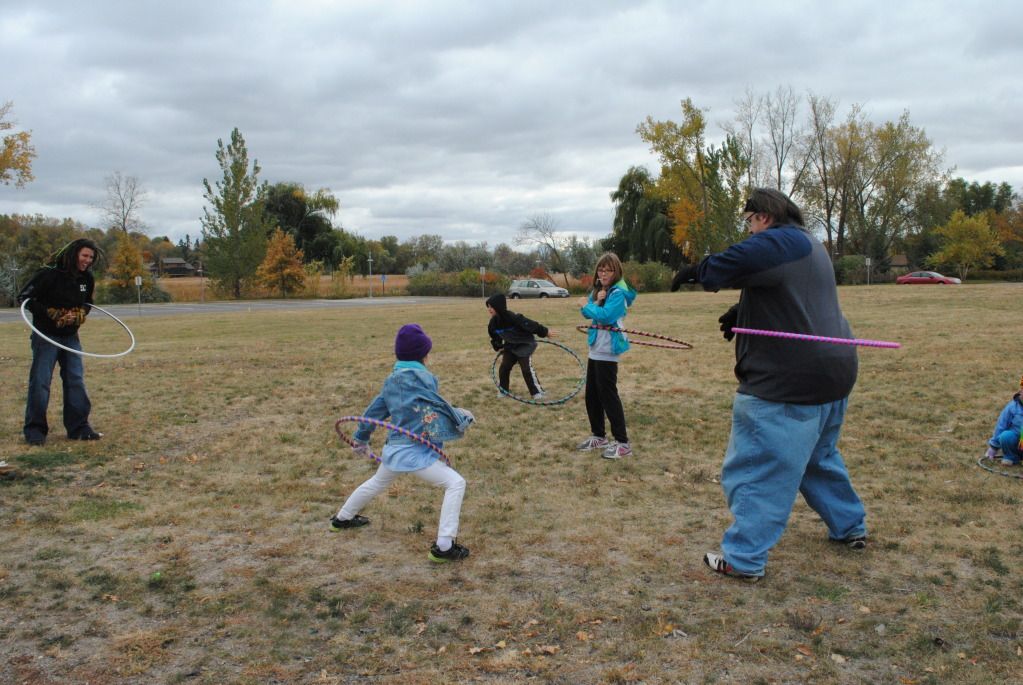 Hula Hoops on the Greenway near Auditor's Road
A Place in Mound wants something built of value, that is revenue generating for the city, and will last for generations.
We can't build something just to build something.
The city is in a fairly powerful position right now. This is valuable land, and developers want it, and want to make money on it. The city needs to leverage it's police power of land use regulation to have a place built that will encourage and attract people to downtown Mound. We are urging Mound city staff and officials to use that power for a better Mound..
... and it needs to start with on-street parking downtown.
Here's a challenge to everyone, both city officials, and regular citizens...
Go to Mound True Value with your child (I'll loan you one of my children if you don't have one) and park your car in the parking lot. Go into True Value, make a small purchase (something you can carry) get a popcorn (share with the child), and then take a walk along Commerce. Depending on your child, you may want to hold her/his hand. Check in with Cal at the barber, and see if he's enjoying all the construction across the street, and see if his customer's use the three only on-street parking spots in front of his store. Cross the street at the Dakota trail, and tell Jayme Clayton at Keystone Chiropractic how much you love her new sign on her building.
Go take a stroll along here
Keep walking south along Commerce and start to imagine Commerce differently. Buy a record or CD from Sean at Tonka Tunes. As you walk by the store fronts, pay attention to how little traffic there actually is on Commerce. Imagine a few cars parked along the curb, and what that would add to the scene. Think about how the cars driving by would be slowing down because instead of having two full lanes to themselves, they would only have one lane in each direction.
The black car is parked on the street on Commerce next to Press Perfect. Other vehicles had no problem what-so-ever getting by it for the 15 minutes it sat there.
You should stop at Threshold, and ask Thom Flug about the Westonka Pop singers and sneak a few peeks at the Westonka Historical Society displays. Then cross the street at the crosswalk, and stop and admire Tim Blair's work at Perfect Press.
Give this place a visit.
As you walk back toward Mound True Value, consider the trail crossing for a moment. Right now, trail users have to cross four lanes of fast traffic to cross Commerce. Now imagine again some parked cars along the curb, and slower traffic. Now the trail user has only TWO lanes of SLOWER traffic to cross.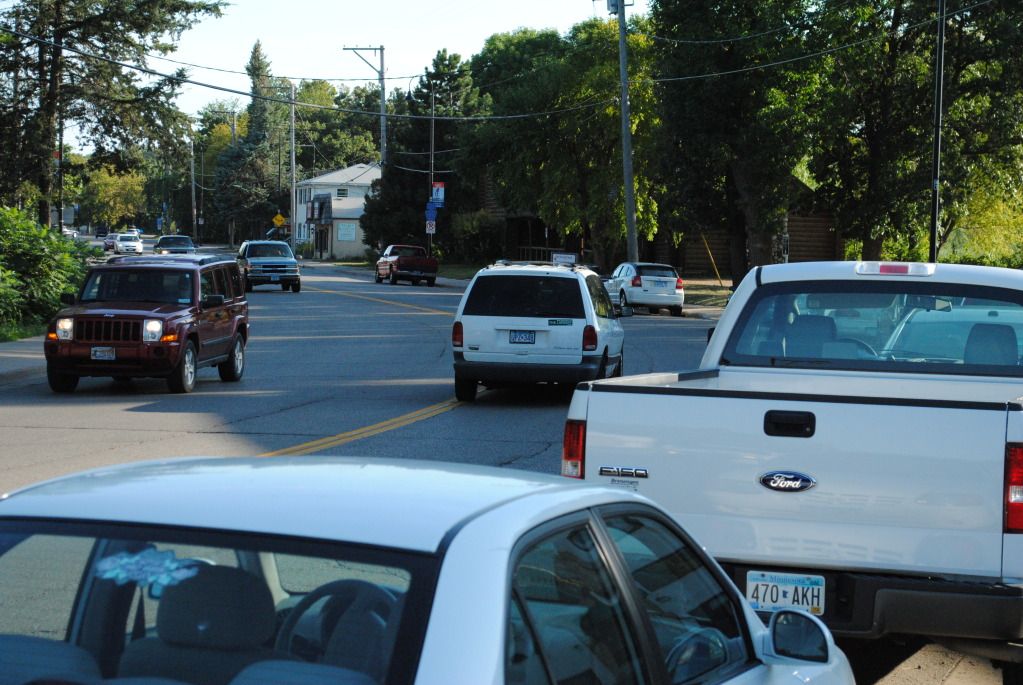 On street parking is allowed on Commerce just a little way south of downtown Mound without problem.
There is absolutely no need for four lanes of traffic in our downtown. Show the downtown businesses that we already have that we value them. If four lanes of traffic is continued to be allowed along this stretch, we are just continuing to encourage people to drive through Mound
And don't let the fact it's a county road scare you! It's about time Mound took control, and stop being intimidated by Hennepin County. Sure it's going to be a hassle... sure the county is going to tell us "no" first... sure Mound city staff doesn't have the time to deal with this... but this, my friends, is KEY to starting a REAL downtown. It is important and worth fighting to make a change.
THAT is how Mound can start developing a downtown. Create a place that we value, and the business community we already have will be stronger, this will attract developers, and Mound will be in a better position not to have to 'give' Auditor's Road away with a TIF.