My wife and I talked a lot about the post last week where I threw lots of red flags about a potential hotel in downtown Mound. The first thing she says to me after reading it was something like "Don't you want Mound to build anything?!"
I've held conversations with two Commerce business owners about rerouting traffic around Auditor's Road so events could be held on the street right in front of their business, and the first they bring up is that it's a county road, and so then it's too hard.
I am constantly having GREAT conversations with my neighbors along Bartlett Blvd about the speed of the street, and ways to make it people friendly. They usually think it's enough to consider posting slower sped limits.
My family had the wonderful experience Saturday afternoon of dining and shopping along the Alexandria, MN downtown corridor on Broadway. A generally wonderful and friendly family experience... except for the strange walk to visit the "Big Ole" statue and Runestone museum, where we had to maneuver along a block of auto centered businesses, then cross a freeway.
We also had some time to spend walking downtown Excelsior, MN this weekend, and am glad to report that it's clearly a busy downtown, with a variety of shopping and eating options, and where I looked, seemed to have occupied 2nd floor businesses.
I told my wife that I want a successful downtown Mound... something that will last longer 10 or 15 or even 50 years. When a business builds in a location, how long will that business stay there? What will happen to that facility after the business moves on? Look at the old McDonalds building in Mound, or the old Country Kitchen in Spring Park? How long did those sit, unused, until someone finally has retrofitted them for dentistry offices? And even though they are dentistry offices now, you look at them, and still know they are old McDonald and Country Kitchen restaurants. Does Mound want more of those?
People in Mound need to STOP being intimidated by Hennepin County. We just need to be smart about it, plan, and make events on Commerce Blvd happen and create on street parking as well. We are just making excuses and being lazy if we think it's too hard. This is our city, the county doesn't care if we have 2 or 4 lanes of traffic... if Maple Plain can have have a 2 lane county road going through it's downtown, we can too. If Mound wants a successful downtown, this is where it needs to start to develop a real downtown... not a hotel.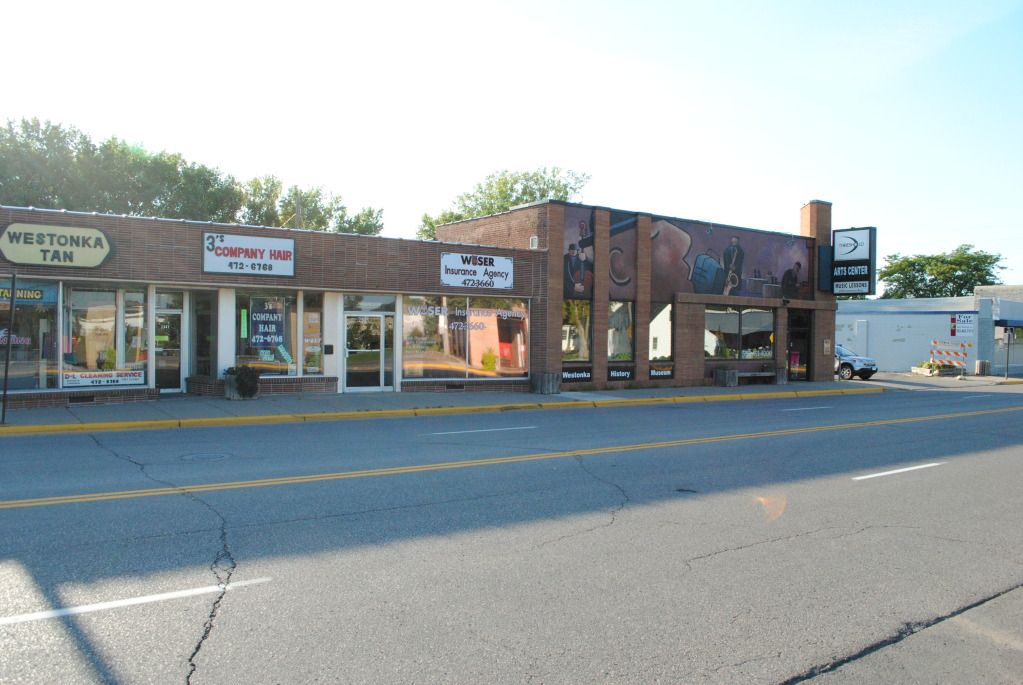 Which bring more value to Mound? These buildings, or an old McDonalds?
Mound Boulevards and other MSA streets like Bartlett are just too fast, and posting a speed limit change is not enough. People tend to drive how the road environment suggests the speed, and it sometimes can be confusing.
Go look at this post
and try to guess the speeds of these streets,
then look at the answers
. Crazy! Mound is in a GREAT position in the next few years to rebuild our MSA streets. Let's redesign them so they are people friendly, and so cars will respect all users on them... and it's going to take more than posting new signs. It's going to take people to challenge the status quo, and fight for this.
If you're like me, and have found memories of visiting Alexandria, MN, and seeing "Big Ole" down at the end of Broadway, you're going to be disappointed now. They moved him next to the lake, and as I suggested, he's hardly a part of their downtown now.Why would a city put a barrier between it's local icon and it's downtown?
Walking through Excelsior was a nice breath of fresh air. One can stroll from window to window and see interesting and wonderful things. Unique shops, locally owned restaurants, a two lane street you can easily walk along (and cross without a problem). Second floors that have doctor and other professional services that are being used (it was often suggested 2nd floor downtown space wasn't a viable space for the Mound Walgreens to build). It's amazing to think how their buildings are all right next to each other, and have clearly been modified, and retooled for different businesses. There was a '
Vision' for this sort of downtown for Mound
, but as that has stalled out, what now? Do we walk away from it because the big recession? Should we just rip that big plaque out of the ground by Lost Lake, and throw it away and let someone park there?
Picture from the "Mound Vision"
Making Mound a
Place
takes work, deliberation, and looking to ourselves, and other communities about what we really want for our downtown. I am trying to do it in a positive way and engage Mound as it's about to make some crucial decisions in the next couple years. Better to act in a positive proactive way, than in a negative reactive way a few years from now.
So I apologize if I get or act negatively here from time to time. I truly believe Mound's city staff and officials are smart and thoughtful people, working hard to make Mound a better place. However the Walgreens development shows the city only taking half steps in the correct direction. It's not just happening here in Mound, look at the picture of the
Trader Joes in this post
, which has the same issue as Walgreens, of building a street fronting building, with the only entrance in the back. As places like the downtowns of Excelsior and Alexandria show, these can be successful places as long as the city sets it up to be successful.
I look forward to seeing some of you tonight at
Mound Magic
. First one who introduces themselves to me as a reader of this website get's a free drink.