Let me start by saying that "A Place in Mound" is not about looking back, and trying to change what happened, or second guess decisions. This post does look back, only because it's fresh in the mind, and let's us look deeper at the topic.
A recent post here asked a deeper question about
why would city create a development
that doesn't bring in more property tax revenues or other value to the city. After that post, I did some more thinking and research about the Walgreens development in Mound, which I refer to as the "Walgreens Block".
Former Johns building, where Walgreens Block will be constructed.
Imitating my good friends at Strongtown.org
, I tried to compare what property taxes would be collected, to what the new Walgreens block would collect after it was built. Here's what the property taxes would be if the property would not be improved by Walgreens.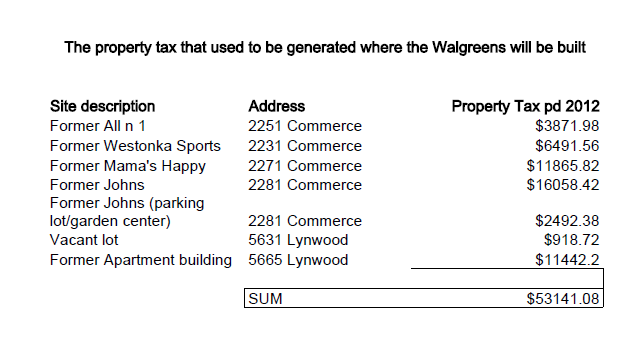 Property Taxes collected on the Walgreens Block before redevelopment equal $53,000.
I don't know what the property taxes will be after the Walgreens will be built, so I looked at other businesses on County Roads that seemed similar sized, or the location seems similar. I also sought out a couple other local Walgreens in Hennepin County.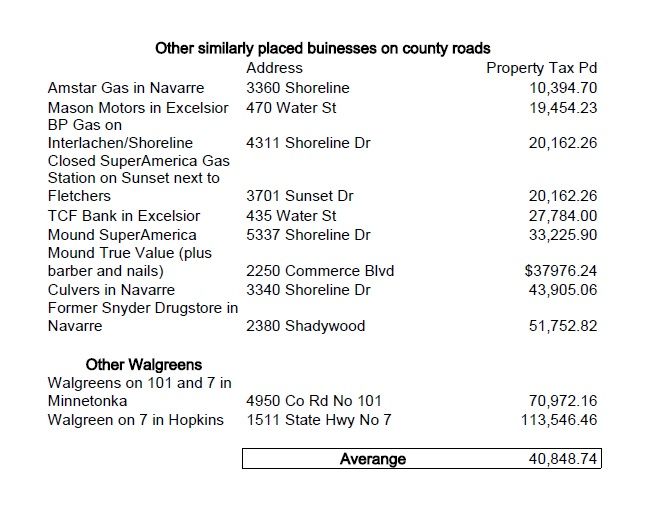 Property taxes collected on similarly placed businesses, or other nearby Walgreens. Amounts varied greatly here. I'm uncertain why Amstar in Navarre pays so little in Property taxes, while the abandoned Snyder Drug store across the street is over $50,000. Averaging the businesses doesn't mean much in my opinion, but I shared it just because I was interested in what that calculation would be.
It's uncertain if the property taxes raised on the Walgreens Block will be more than what is collected currently. If it will be, it certainly doesn't seem like it will be much. Before I did these calculations, I would've assumed the city would get a significant boost in property tax revenue, but that would be wrong.
Now I closely followed the discussions on Walgreens at both the Planning Commission and City Council, and I'm certain this issue was never raised, with the exception that it was expressed strongly several times the desire for Johns and Mama's Happy stay in town. As I discovered last week, it appears that cities (in general, not just Mound) don't even consider the financial circumstances of a new neighborhood development.
In a time where city budgets are squeezed, and the City of Mound decides to let go of it's own Police Department, shouldn't the financial ramifications of future developments like these be carefully parsed, so the city can maximize the revenue potential of potential developments?
There are other things of value Mound will gain from the Walgreen Block development. Some will say the street front will look better with a brand new Walgreens and the business climate will be improved. People find value with the pharmacy drive through, and everyone loves the little trail/outlet building that should be built after the Walgreens is done. Each of these, and more, bring value to the City of Mound. I don't mean to delegitimize them, but they are subjective, and hard to quantify.
It seems to me that the numbers like I put together above, could be part of a financial look at future projects, to help the city decide the best way to leverage their positions to maximize revenues, especially in today's economic climate.

I would welcome a challenge or a better way to look at the financial situations here for the city.

PS - On Oct, 11, I got informed by the city that the Walgreens Development will be a financial boost. Exactly how much is unclear, and I will post an update soon. ~gml4