Everyone is excited about the potential of a new development along Auditor's Road. In some ways it has been frustrating to drive by this blank lot every day and feel the let down that things didn't go as planned. On the other hand, the city has been saved, in a sense, in that we don't have a big white elephant of an empty building either. It's almost a clean slate that the city gets to work with.
The fact is, if something starts to get built along Auditor's Road, the city is in a powerful position to get what it wants.
What does the City of Mound want?!
It strikes us that in these times, the priority that should be on the top of everyone's list should be finances.
Mound NEEDS to be sure that whatever is going to be built, will be productive and valued. Property taxes collected on these lots will go a long way in securing the finances for the city as federal and state money continues to dry up. Whatever is built here needs to be a big money maker for a city which just eliminated it's police department.
The potential of the Lost Lake Villas.
Today, let's look at the Lost Lake Villas. The part of the development which was actually built, but which no one seems to like. I decided to look at the money and poulation potential of the Lake Lake Villa's, and compare it to a randomly chosen corner of lake property along Island View Drive. Both blocks I'm looking at are roughly the same size
So let's first see how much money each "block" collects for property taxes.
The Lost Lake Villa's Currently produce over 90K in property tax revenue. This does include the Caribou Commercial lot, which hosts Caribou, Larsen Chiro, and Sir Knight Cleaners.
Island View Drive currently produces over 85K in property taxes. And that's with no commercial property help.
So it's really no surprise that the Lake Lake Villa's can't produce the property tax revenue like Island View Drive without the Commercial help.
But, what would happen if ALL the Lost Lake Villa's were improved and had housing on them as was conceived?
If Lost Lake Villa's were all built, they would produce over 166K in property taxes, plus the commercial property tax collected.
If all those little lots were improved, this block would double it's production of property taxes. Might the city enjoy another $90K in the coffers?

One benefit from those smaller lots as we see here is the ability for the city to produce more revenue. I don't know how city financing works, but I imagine it is also cheaper for the city to maintain 37 properties this, as t has less street to manage, and utilities are more easily managed.

The last point I want to make here is people... look at the population potential here. I have no idea what the "average household population was, so I just averaged 3 in each house.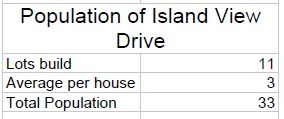 Currently the population of both these blocks are the same.
But what is the potential population of the Lake Lake Villas if all the properties were improved, and they were all filled?
Population of Lost Lake Villas explodes, where there is little potential growth for Island View.
We aren't trying to argue that the Lost Lake Villas is a perfect development. Clearly there's something about the place that people aren't attracted to, though I'm uncertain what it might be.

What is clear is that there are some good things to come from developments like this. It's places like the Lost Lake Villas that will improve our cities finances. These might be the places baby boomers will want to move to as they tire of their huge homes. These also might be the place a young family might move to, to take advantage of the nearby transit center. An entrepreneur may want to live close to the ice cream shop he/she is setting up down the street.

So before you disparage the Lost Lake Villas, think about what developments like this brings to the city of Mound, and the opportunities it may bring to other people. Just because you don't like it, doesn't mean others won't. Also, no one is making you live there.

Also, please remember that I have no formal training in comparing property taxes, or populations. So I would welcome any corrections to my analysis. A big part of the reason why I'm doing this is because I'm trying to educate myself! So go ahead and set me straight!