Yesterday
I asked who determines what a Place is, while finishing with a picture of Veteran's Memorial Plaza, the circle park next to the parking garage in Mound's downtown.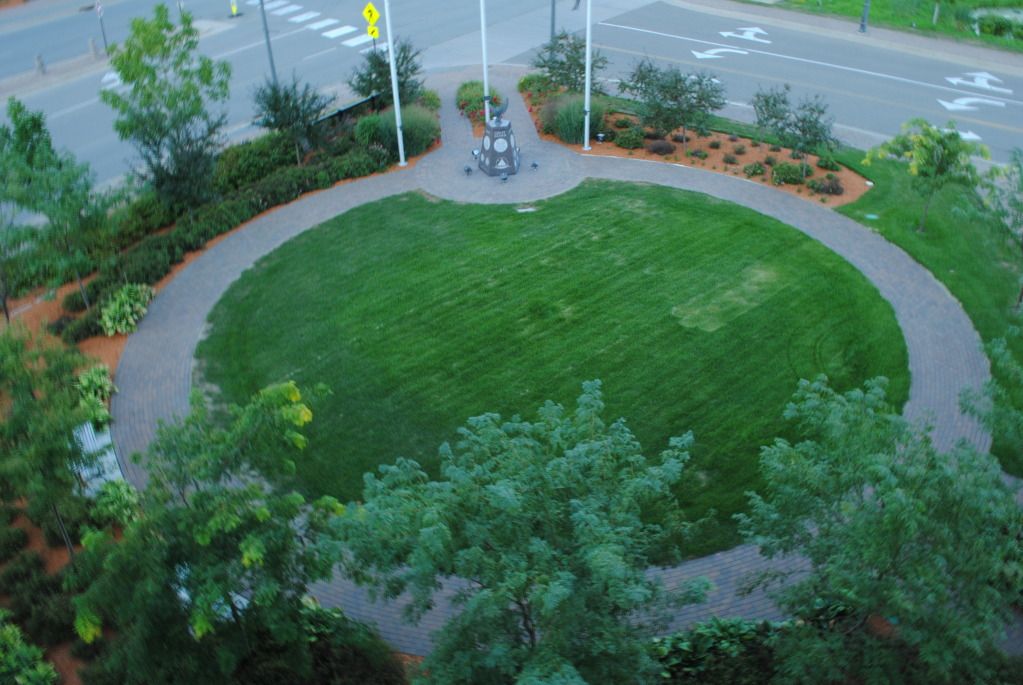 Veteran's Memorial Plaza - Is this a non-place?
It is clear the city has developed a public space, and expect people us use this
place.
It is well maintained area, always clean, and highly visible to passing motorist and transit users. It was planned, designed, invested heavily by someone (the city or donor?) and was built to be a place of significance, which you can feel when you enter the area. There is definitely a sense of mystique and awe here. There are several benches that face the center of the circle.
Unfortunately, it's loud with traffic speeding by, and you feel like you're in a fishbowl, where everyone is watching you when you spend time here. The traffic of course creates a lot of noise as well. Another downside, is with the sense of awe and mystique one feels when you enter the place, it's not one where I as a parent feel free to let my child run around.
Lots of people drive by here. Lots of people get on the bus near here. Does anyone ever drive to here?
We are glad you are enjoying A Place in Mound. There have been a lot of great discussions about places and Mound. If you have a Place or non-place you feel would be good to point out, definitely contact us and let us know about it! We also ask, if you are on Facebook, please take a moment and 'like' us there so you can get notified right away when we make a new post every morning. If you're not on Facebook, you can get posts emailed to you by sharing your email on the right. Thanks for all that you do to support places in Mound
As many times as I go by Veterans Memorial Plaza, I cannot recall a single time I've ever seen the spaced used by anyone.
Admiring a monument in Veteran's Memorial Plaza.
Clearly there are times when a place like Veteran's Memorial Plaza are needed, and it is important that the city have places like this. But is this effective use of space? What are we, as citizens saying about a place like this if it's not used? Do we not care about a place like this? Do we not value it? Did the city make a mistake in the creation of Veteran's Memorial Plaza? How can we create value here so it is a
Place
?
Nearby, the Andrew Sisters Trail is a short trail along part of Lake Minnetonka that was developed and built around the same time. Is was to connect and be a Place for the new downtown of Mound. There are several benches overlooking the lake (often not used) as the Andrew Sisters Trial is currently used to connect places currently, more than it is a destination. However this bench has become a regular stop for my kids.
Benches like this are found along the Andrew Sisters Trail, and other parts of downtown Mound.
Why would this bench be a place? Because it looks straight at this large rock.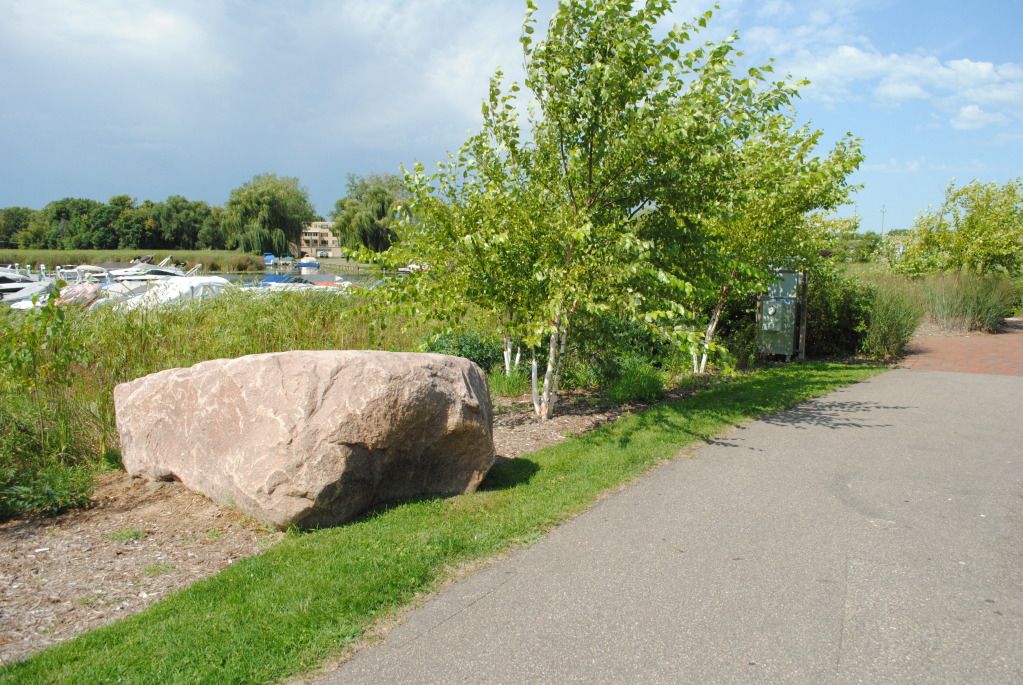 Is this a place?
And what's so special about that rock? Just ask my daughter, who climbs on it almost every time we walk by here.
Creation of a place in Mound
Clearly someone decided to make a place here, but I imagine it was more happenstance, than anything. It is small, pleasant and quiet. This place is cheaper, and makes use of the natural features of the trail and shoreline. The space here is small and contained, so the kids tend to keep close to the rock. The bench gives dad a chance to take a load off!
Clearly if a another child would walk by with their parent, they would have to join the fun, and it gives the parents a chance to connect, which is what a Place is really all about.
If a lot of money is spent on a valuable piece of land, the citizens of Mound should expect a return of some sort on that place. In turn, if a place just happens to come along in cheap and interesting ways, that needs to be supported, and encouraged. We need to push for these cheap and organic places to spring up and the city has a responsibility to support these places when and where it can.
We want places where people can connect. We want to be able to easily support our local businesses. We want safe places for our children. We want to be able to easily access a place in whatever way WE choose.
We want Mound to be a place to drive to, not drive through.